2022 GMC Syclone: Truck Specs, Redesign, and Release Date. The original performance truck was produced three decades ago but these days, we can see a new iteration, made by Specialty Vehicle Engineering of Toms River. Although it doesn't come from GM, this version seems pretty genuine. At least, it pays tribute to the model that completely changed the perception of a pickup truck. Once known as work mules only, these vehicles became a platform for all kinds of upgrades soon after. The 2022 GMC Syclone won't be any different. It will offer exceptional performances, something you wouldn't normally expect from a pickup truck.
Of course, the core of this model will be the engine but you may count on all other kinds of upgrades. Naturally, there is a completely new suspension setup, as well as new brakes. The chassis has been reinforced. Visually, you may count on a plethora of details that emphasize the model's performance character.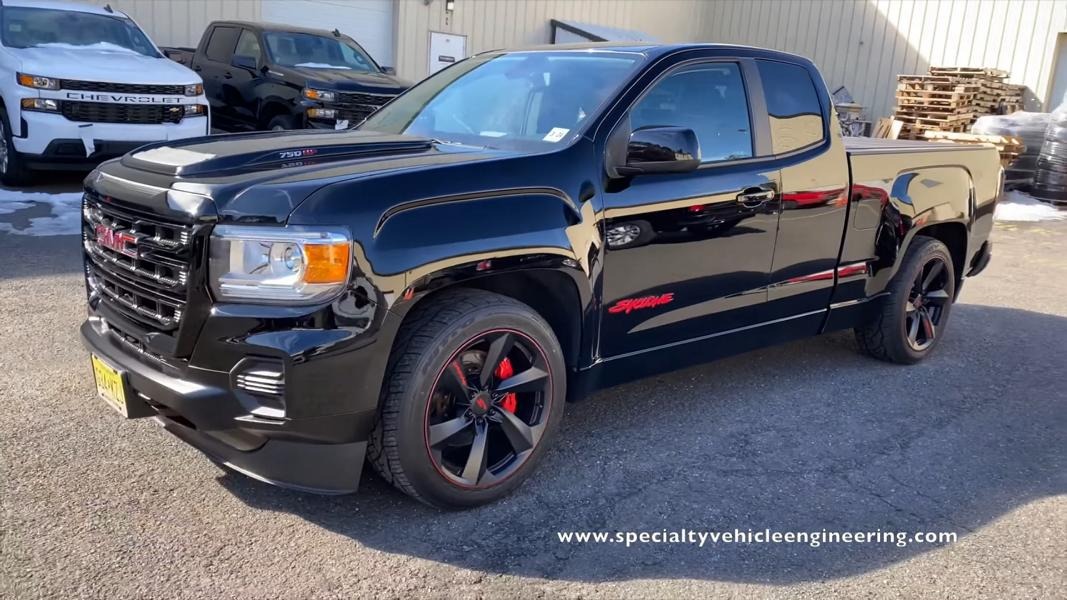 2022 GMC Syclone Redesign
Of course, the engine upgrade won't be the only modification to see on the 2022 GMC Syclone. There are numerous design solutions that improved the performance and appearance of this truck. Once again, GMC Canyon serves as a basis but we can notice a plethora of upgrades. In terms of mechanics, some of the highlights are features like upgraded suspension, lower ground clearance, heavy-duty rear sway bar and more. You may count on new 6-piston brake calipers and 13.6-inch rotors upfront. Interestingly, rear brakes remained stock.
Besides numerous mechanical upgrades, there are also lots of aesthetical upgrades that make this truck look better. There are new 20-inch tires with Michelin Pilot Sport 4 tires. Also, you may count on a new hood, new custom rocker panels and loads of "Syclone" badges. Naturally, the truck comes completely black, with a massive "Syclone" lettering on the tailgate.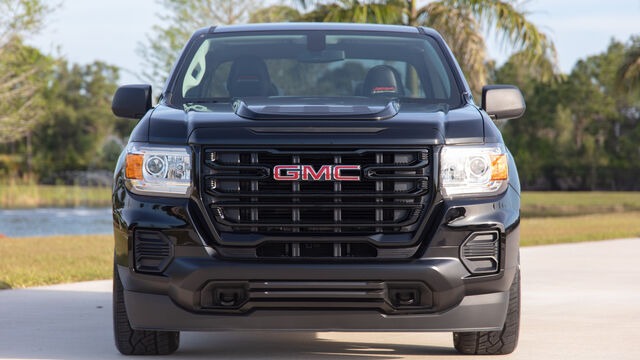 2022 GMC Syclone Engine
Without any doubt, this is the most interesting part of the 2022 GMC Syclone. We already saw one version from this tuner two years ago. For that occasion, the New Jersey tuner did a significant upgrade on the familiar 3.6- liter V6 to get 455 horsepower from it. For this occasion, things went even more extreme.
This time, we are talking about eight cylinders. For this occasion, SVE took a familiar 5.3-liter V8 from Silverado, which in its base variant puts out around 355 horsepower. With all the upgrades that have been made, the max output now goes all away up to 750 horsepower. The power is sent to all wheels and with such a number, you may count on nothing but exceptional performances. For example, 0-60 time should go under four seconds.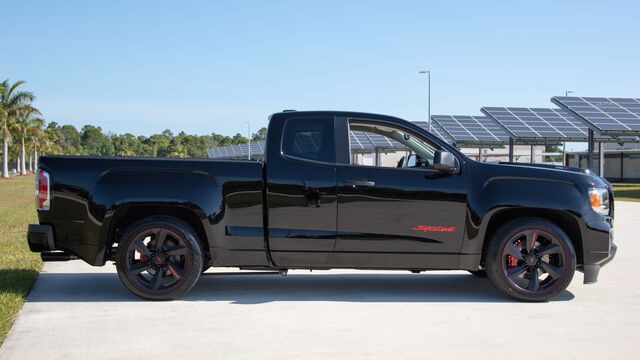 Interior
Interior upgrades will come as well, though they won't be as numerous. Most of the cabin is about to remain the same as in the standard Canyon, though you may count on upgrades on the dashboard, as well as on a new instrument cluster. Furthermore, there are exclusive floor mats and similar upgrades.
Interestingly, the new 2022 GMC Syclone follows the original design in many ways, including the cab style. So, you may count on an Extended Cab version only. A good thing to know is that most of the features from the standard model will be kept, including goodies like an 8-inch touchscreen, smartphone integration etc. You can get a model with the optional leather package, which brings unique leather upholstery.
2022 GMC Syclone Release Date and Price
The 2022 GMC Syclone will become available later in the year. From what we know so far, only 50 units will be made and this special pickup won't be cheap. The base price should go around 80.000 dollars.
Gallery 2022 GMC Syclone: Truck Specs, Redesign, and Release Date