2022 Chevy Silverado 2500HD: Duramax, Release Date, and Spy News. While the light-duty version of the current-generation Silverado is about to receive a major refresh for the next year, the 3/4-ton version is about to continue in the same way, reports say. This includes all versions, including one of the most popular variants, the 2022 Chevy Silverado 2500HD Diesel, which is a variant that offers a great balance between capabilities and performances. The current generation has been around for just a couple of years, so this lack of updates seems natural.
All this means that you may count on a capable 3/4-ton truck, which is finally capable of keeping pace with rivals from Ram and Ford. Strong working characteristics, this truck is also good-looking, while we also like the fact that you can configure it in so many ways, even as a decent off-roader.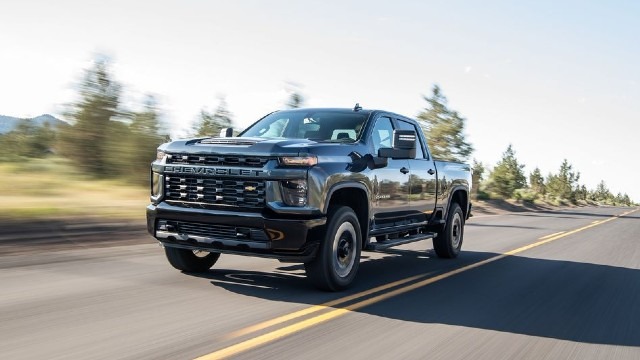 Since there are no bigger changes to come for the next year, we expect that the 2022 Chevy Silverado 2500HD Diesel will hit the market sometime late in the year.
2022 Chevy Silverado 2500HD Engine
Things under the hood definitely won't change. So, the 2022 Chevy Silverado 2500HD will carry on with a well-known 6.6-liter V8 Duramax turbodiesel, which features a max output of 445 horsepower and 910 pound-feet of torque. The engine comes in pair with a 10-speed automatic transmission from Allison, which does a pretty nice job. With this combination, you may count on the max towing capacity of 15.400 pounds.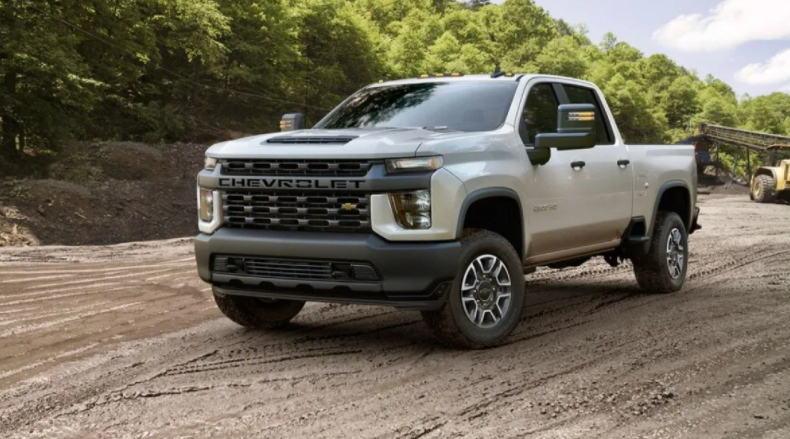 2022 Chevy Silverado 2500HD Diesel Redesign
In terms of base design characteristics, the current generation uses all the benefits that come from a new T1 platform. It is lighter than the previous generation and also better to drive. The new suspension setup and transmission play a significant role in the model's big improvements in terms of towing and hauling.
Visually, the new model looks way more attractive than before. Of course, that massive grille dominates the front and we can say it still looks pretty fresh. Also, it comes in different colors and materials, depending on the trim level you pick.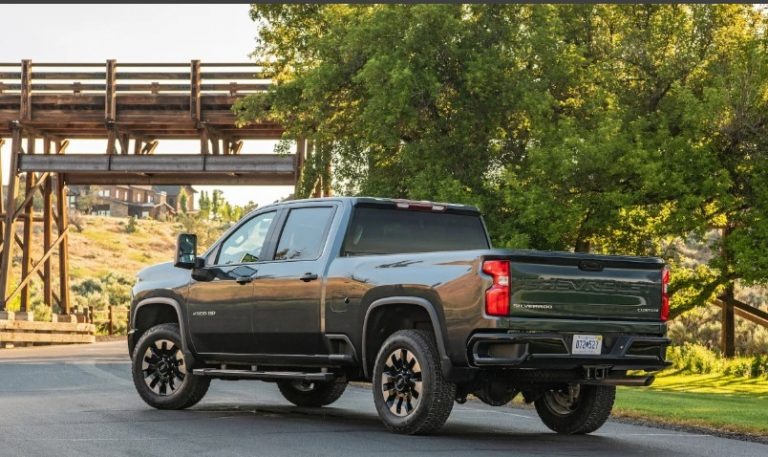 Interior
Just like the standard 1500 model, this truck also arrived with pretty much the same cabin as the previous generation. That may feel like a drawback, especially when compared to Ram's new interior, but drivers who prefer functionality over style will definitely like the environment. The overall quality is decent, while there's plenty of space, no matter which version you choose.
Speaking of the versions in the offer, you can choose between three familiar cabin layouts– Single, Double and Crew Cab, as well as between different bed sizes.
Trim Levels
The trim level organization is typical for Chevrolet models and we expect that the 2022 Chevy Silverado 2500HD Diesel will continue in the same way. This means that the diesel engine will be available in all trim levels except for Custom.
The offer will start with the Work Truck (WT) model, which is a typical workhorse. You won't get a too-long list of standard equipment with this one, but you may still count on a 7-inch touchscreen and smartphone integration. On the other side, there are no power accessories, nor alloy wheels, or body-colored bumpers.
2022 Chevy Silverado 2500HD Diesel
The LT trim level brings a couple of upgrades, especially in terms of convenience. Some of the things we should mention are goodies like power-adjustable and heated mirrors, a remote locking tailgate, cloth upholstery and a leather-wrapped steering wheel.
The LTZ is next in the line and it includes all the above, as well as things like power-folding mirrors, leather upholstery, power-adjustable and heated front seats. The top of the offer comes with the well-known High Country badge, a trim level that includes a couple of luxury features, such as side assist steps, a spray-in bedliner, ventilated front seats and a Bose audio system.
You may also count on a couple of standalone options, mostly safety features, as well as on a couple of packages, including the Z71 off-road package.
2022 Chevy Silverado 2500HD Release Date and Price
Since there are no bigger changes to come, we expect that the 2022 Chevy Silverado 2500HD will hit the market sometime late in the year, with a starting price of around 48.000 dollars. Of course, key competitors will be diesel versions of Ram 2500 and Ford F-250.
Gallery 2022 Chevy Silverado 2500HD: Duramax, Release Date, and Spy News